This is the day I have been waiting for; I got to have breakfast with Jared today. The thought of a whole hour with Jared is wonderful, but it also made me a bit too excited to sleep. I was up quite late yesterday (this morning), then I had to get up in time to meet at 7:30am for the breakfast; since I am definitely not a morning person, this was not easy. We met at the bottom of the escalators at the Hotel, right outside of a restaurant. The lucky breakfast winners for Jared, Jim, Chad, & Nikki were just sitting there chatting when Chad and Fred showed up. They immediately headed to the Starbucks for coffee while we were waiting and Nikki soon joined them. When Jared came down I got to admire how gorgeous and TALL he was again *remembers fondly*. Next, I noticed he looked VERY tired. When you think about it, they work very late on Fridays (usually). He probably would have gotten a bit of sleep, packed, then headed right out for Orlando. However, when we met at 7:30am Eastern, his body is telling him it is 4:30am Pacific. On top of that he has the start of a cold and his voice sounds all gravelly.

We were all escorted into the restaurant and Jared and his guests were escorted to a little private room for our breakfast. No blood was drawn when the seats were chosen, yet somehow I ended up sitting to the right of Jared; Chevy1967 from the CW Lounge was on his left. I caught the names of two other guests; Sabrina and Linda. Unfortunately, my brain has blanked on the other two ladies' names. I have to blame it on my body's reaction to the proximity of Jared, my brain was on overload because of his presence.

I might be a little fuzzy on everything that was discussed, but I will try to capture some of the general topics before they fly out of my head. We discussed how he was feeling; he has the start of a cold coming on plus lack of sleep, but he said he was really happy to be here with us (awwwww). Someone brought up a rash of flu cases reported after the Chicago Con last year and Jared mentioned that Jensen had been ill, so naturally all of the flu cases that the Supernatural fans had were traced back to Jensen, after all he wasn't there to defend himself :-).

We also spent a bit of time talking about his dogs and them getting 'skunked'. Apparently it happens more frequently than he would like. I am surprised... there is nothing like a good skunking!

One of my favorite tidbits I picked up at the breakfast, was the story of how Jared & Jensen became roomies. First of all, Jared bought a house in Vancouver last year because he is hardly ever in LA; it also would be better for his dogs. In the meantime, Jensen was renting from a friend of his that he met while on Dark Angel. The market in Vancouver was going up and the friend decided to sell the house. After it sold, Jensen didn't really have time to find a place, so Jared told him to move in with him. Jensen was reluctant at first. Jared said that Jensen said he didn't want to crash his place (I probably don't know the phrasing, but I took it to mean he didn't want to butt in). So, Jared offered to let him store his stuff while they took off for the summer. Then, the guys were filming their movies and never got around to finding a place. When Supernatural started filming again, they still didn't have enough time to find a place, so Jensen was staying there on an air mattress. Eventually Jared got him to unpack some stuff, put up a bed, and it has been working out well ever since. They each have their own floor and there are some common areas. Jared said it has been about 7 weeks and everything is working out fine. Nobody gets insulted if one or the other just wants to crash and sometimes they do get together and barbecue or play guitar... I think this is great because in my mind it makes them even more like brothers. I love it and hope they don't get on each others nerves as time goes by.

Jared talked a little bit about filming this new season and that led to a story about banging his elbow pretty good in the diner fight scene for episode 4x02. He was supposed to do a 2 foot drop for a camera shot and "for whatever reason", he slammed his elbow into the ground. Now, when he straightens it he gets a jolt of pain down his arm. Chevy1967 happens to be a doctor and she took a look at his elbow and told him about the Ulna nerve *I think* that runs through the elbow. Between you and me, I think she just wanted to squeeze his arm... Chevy1967, you are my hero!!!!

The bruise on his elbow led to a question (from yours truly) asking him about the fight scene in the diner. I asked him if there was some kind of a wire and harness on the demon girl, because Jared practically launched her. He said that it wasn't even him (except for the 2 foot drop) and yes they had the harness on her and she was yanked off of Jared's stunt double.

Jared also talked a bit about when he broke his wrist. He showed us the scar and talked about filming Simon Said with all of those drugs in his system. He said he was so loopy they sent him home (which doesn't happen very often). He also talked about getting the pins out under local instead of general anesthesia (which he regrets). He said one of the pins was bent when it came out *ouch*.

Eventually we got around to promoting the show and discussed our feelings that Dawn Ostroff and the CW aren't giving the show the support it deserves. The fans expressed some of the ways that we promote it; for example, buying multiple copies of the DVDs and lending it out or "pushing it" on as many friends as possible. It is kind of a shame when nearly all of the promotion is done by the fans. However, there is a bright spot here. Jared said that they just finished a 7 hour photo shoot for promo shots... YAY!!!! I am so tired of the old stuff. The same old photos are ending up on posters, T-shirts, books, everything because there have been no new photos for a while. Thankfully we have episode promos so that we aren't totally deprived, however they are seldom used for official announcements, etc.

Here are some pictures from the breakfast...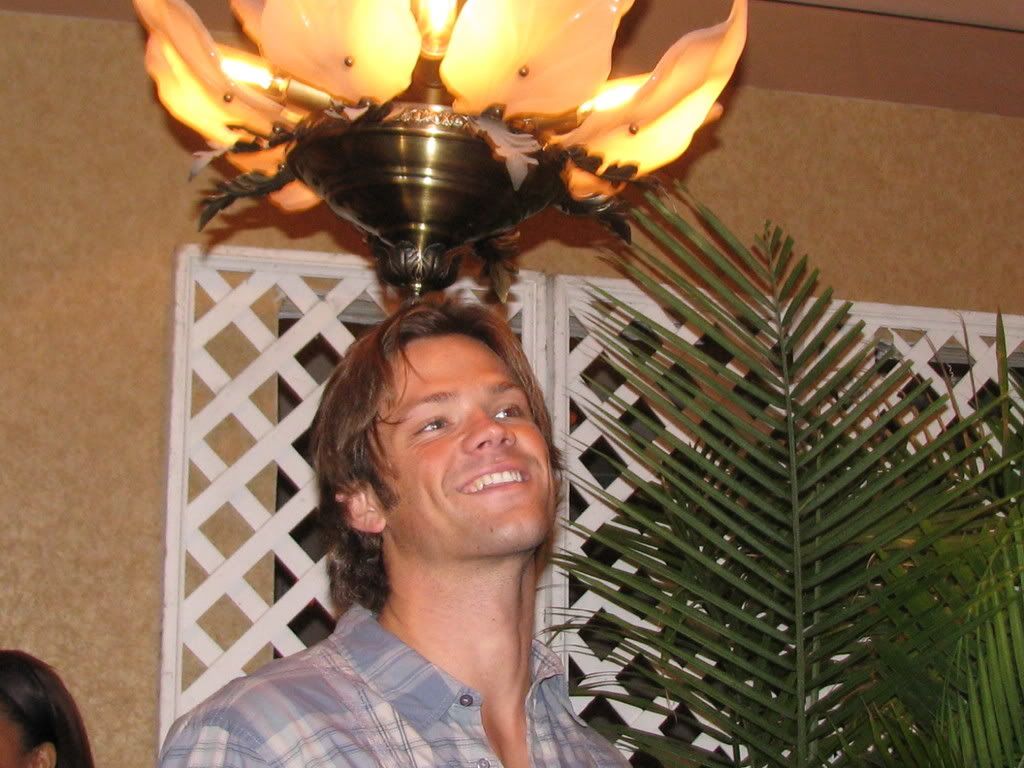 Jared is a bit tall isn't he? When we were leaving, someone warned him that he was about to hit his head on the light fixture... So he deliberately walked into it and not only did it touch his head, he had to drop his head back to fit under it at all... Gosh, he's cute!!